Old Version

Current Version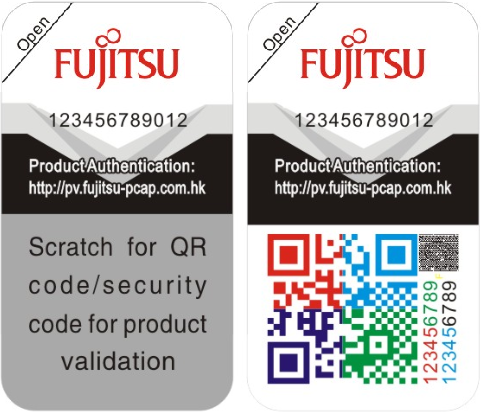 Product Authenication:
1. Scratch off the security label coating to obtain the 18-digit security code.
2. Enter the security code and verification code to authenicate your product.
Terms of Use
1. These terms and conditions govern your use of this website; by using this website, you accept these terms and conditions in full.
2. Definitions:
a. "We" refers to Fujitsu Business Technologies Asia Pacific Limited
b. "Content" refers to any text, image, photo, video, any combination of these elements and any links, image, audio and computer
program used in this website
c. "Website" refers to the product authentication website of Fujitsu Business Technologies Asia Pacific Limited
3. This authentication website is solely for accessories products of Fujitsu Business Technologies Asia Pacific Limited, other products from Fujitsu PC Asia
Pacific Limited and products from other Fujitsu companies cannot be authenticated through this website.
4. For concerns about the genuineness of your product, please email to fbta.cs@fujitsu.com.
5. We reserve all rights to this term of use.
6. Limitations of liability
a. We are not liable to you (whether under the law of contact, the law of torts or otherwise) in relation to the contents of, or use of, or
otherwise in connection with, this website.
b. We are not responsible for any indirect, special or consequential loss
c. We are not responsible for any business losses, loss of revenue, income, profits or anticipated savings, loss of contracts or business
relationships, loss of reputation or goodwill, or loss or corruption of information or data.
d. Information provided in this website cannot be used as prove or evidence for claims in any form.